Fast-Link Express Ltd.
Hong Kong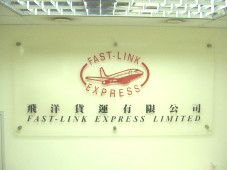 Hong Kong ¡V Hong Kong is the main economic and foreign trade center. It is located at the mouth of Pearl River Delta and is a hub with worldwide and gateway to China .

Hong Kong is the busiest and efficient international container port in the world. The total handling capacity of the container terminals is over 18 million TEUs per year. The port is served by about 80 international shipping lines connecting to over 500 destinations around the world.

Hong Kong International Airport was established in 1997. It possesses the most advanced facilities. Near 60 scheduled passenger carriers and 15 all-cargo operators link Hong Kong with more than 140 locations round the world.
Company Profile
Established in 1992, Fast-Link Express Limited is a progressive member of International Air Transport Association (IATA) and Hong Kong Association of Freight Forwarding and Logistics Limited (HAFFA). It provides international freight forwarding services to our customers. Fast-Link Express Limited possesses a group of experienced professionals in foreign trade, air and sea transportation, which ensure to provide reliable logistics solutions to you. We will listen patiently to every customer and then design the most suitable logistics solution. With the effort by all of our staffs, we aggressively expand our market into China and other areas such as United Kingdom, France, United States of America and Middle East in the past few years. Witnessing the strong and growing demand in international freight forwarding services, we continuously utilize our opportunities in expanding the business scope into different market and upgrading our service quality.
| | |
| --- | --- |
| | |

With the joining of China into WTO in 2001, we vision the potential and significant changes in China foreign trade industry. In Jan 1, 2004 , with the implement of CEPA agreement, if the companies in Hong Kong satisfy certain criteria, it can then set up a subsidiary company in China . Under this condition, we invest RMB 5million to set up a Class A forwarder in Shanghai , named as ¡§ Fast-Link ( Shanghai ) International Transportation Company Limited, which is able to handle the transportation in the eastern and northern part of China . Besides this ¡§ Fast-Link (Shanghai) International Transportation Company Limited, our company also set up a representative office in Shenzhen, which is capable of handle the shipments in southern part of China. We are constantly improving and upgrading our services. We are confident in our ability to growth and develop in both its business scope and service quality.
Internal Operation

Air Operation Department
This department is responsible for all air-import and export shipments. Duties include booking of space with airlines, arranging charter flight, palletisation, documentation preparation, storage and custom clearance, etc. Our network expands over the major cities in Europe, North America, South America, Middle East, Australia and Asia. We also set up a transshipment department, which is responsible for handle re-export shipments from China to other areas such as Taiwan, Japan, Korea, Europe, Middle East, America and Canada, etc. Together with the setting up a Class A forwarder in Shanghai , Shenzhen & Ningbo, we guarantee to provide fast and reliable services which aimed at exceeding customers' expectations.
Sea Operation Department
This department is responsible for all import and export of sea-shipments. Duties include booking space with the liners, stuffing, devanning, documentation preparation, storage, custom clearance and haulage, etc. Same as air-shipments, you can check the status of your cargo through our website anytime you want.
Land Department
In order to provide a fast and reliable transportation to every shipment, Fast-Link Express Limited has a subsidiary company called ¡§Power World Logistics Ltd.¡¨ which is responsible for all the local transportation of Fast-Link Express Limited. Power World Logistics Ltd. possesses its own transportation fleet which provides rapid local transportation services to you. We had also acquired a third party insurance policy against the protection of the customers' consignments.

Warehouse / Logistics


Our container field station is located at ATL Terminal while the air cargo terminal is located at Sun Fung Centre, Tsuen Wan. Both the terminals have installed burglar alarm system and CCTV to provide the greatest protection of your cargo.
2010 Spring party