Power World Logistics Ltd.

Company Profile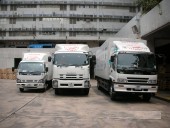 Power World Logistics Limited is a subsidiary company of Fast-Link Express Limited. It has its own transportation fleet which handles all the local transportation of Fast-Link Express Limited. The transportation fleet travels around the air cargo terminal, ocean terminal and all areas in Hong Kong everyday, which provides fast and reliable local transportation to our customers.
Every staff of Power World Logistics Limited has to meet strict requirements. Each staff is sincere, polite and experienced in this field. Together with the well-management, we ensure to provide rapid and reliable local transportation to you.

Service Area of the Transportation Fleet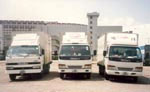 After the arrival of the goods at AAT or Air Cargo Terminal, our transportation fleet will arrange cargo pick-up from these areas and deliver the goods to the consigneesˇ¦ warehouse at the soonest possible time. On the other hand, for the export shipments, our transportation team can arrange quick and flexible cargo pick up from the customers, together with the close co-operation with operation departments, we ensure the cargo exported from Hong Kong at the earliest time, without any delay.

We have acquired a third party insurance policy against the protection of the customersˇ¦ consignments. The insurance policy offers as high as HKD 2 million as the compensation against the consignments concerned which provide the greatest protection of every consignment.